Alexandria, Egypt, has a fascinating adventure history, and this started with its founder, Alexander the Great, in 331 B.C. The Egyptian city of Alexandria is also known as the Pearl of the Mediterranean. It is a Mediterranean city, known locally as Alex, and also one of the largest in Egypt.
About Alexandria
It was a location for the Alexandria Great Library and one of the Seven wonders of the world (the Pharos) in the Hellenistic period. Alexandria was the site of the stirring love affair between Caesar, Cleopatra, and Marc Antony, as well as an international meeting place for brilliant minds in the twentieth century.
The city must have lost some of its old glory, and today Alexandria is full of concrete buildings, office buildings, and busy streets. But, with a little research, travelers can still find Alexander's glorious history.
Some side attractions you can still find are Greco-Roman monuments, eye-pleasing gardens, the Qaitbay citadel, palaces, cafes, Alexandria Opera House, and many more. Tourists can search for information at various museums, visit the modern Bibliotheca Alexandrina, have fun on different beaches available and visit some important religious sites.
People visit Alexandria for different reasons; as a tourist resort or as a day trip if you are traveling from Cairo. However, irrespective of your reason for visiting Alexandria, it is really an exciting location to stay for some days. In this guide, you are about to find out some important attractions, where to visit and how to find your way around the city.
Choosing a Tour Guide
Guided Tours
You can find different authorized companies and individual guides that offer group tours for buses and private day trips to Alexandria. Tours are an easy and stress-free way to get to and from both cities and come with an integrated Egyptologist guide.
However, before you go ahead with the booking, you must compare the prices of tours, itineraries, and services. One of the best things about the tour in Egypt is that it offers an exciting tour at a cost-effective price than many countries.
Here are some tours to consider:
Full day tour: This includes transportation for the full tour, tickets to three attractions, and lunch, and visit historical sites.
Guided tour: This includes transportation for the entire tour, entry fees, and lunch. This also comes with a visit to St. Mark's Church and the opportunity to visit the Abbo Elabbas Mosque.
One-day private tour: Here, you'll get a round-trip transport,  visits to most of the city's attractions, as well as city entrance fees.
Overnight trip: A round-trip transport, entrance fees, a guide, lodging, and breakfast in Alexandria. Since you are staying through the night, you have a lot of time to have a full glimpse of Alexandria.
How to Get to Alexandria
Plane
If you are coming from North America, the primary entrance for visitors is the Borg el Arab Airport (HBE). After touching, you might be lucky to board one of the two buses that come daily (buses depart at 10:30 am and 4:30 pm, costing E£10). Although, it is more visible to go with a taxi and you will have to pay more (around E£150).
Train
The train from Cairo Ramses station is a great way to get to Alexandria (especially since there are many daily flights from the United States to Cairo). Make sure you get a "turbo" service because slower trains do not always have air conditioning, which is important in the Egyptian climate.
Car
It is an excellent and convenient option when you opt to rent a car at the airport because you will easily locate Budget and Europcar at the terminals when you arrive. To get to the city, take Highway 75 directly to Alexandria city center. If you are traveling from Cairo, Highway 75 is the best & quickest route, but you can use the road via Tanta, which has beautiful stretches of the Nile Delta.
Bus
You will find a lot of bus services when traveling between Cairo and Alexandria. This is because you will find many companies operating along this route. Some of them are Golden Arrow, El Gouna, Super Jet, and Western Delta. Travel time should take about three hours.
Getting around Alexandria Egypt
There are a variety of public transportation options in Alexandria, some of which include trams, rail, and public buses. There are also other microbuses; however, there is a public bus system in Alexandria; you don't have to rely on them because figuring them out can be frustrating. The following is a reasonable breakdown of transportation options in Egypt, although the information might not be precise as it is subject to change.
It may be difficult to find a schedule. Therefore, please check the tram and bus stops or make inquiries at the hotel. Writing the name of the place you want to go to in Arabic and English will make it easier for locals to give you the right direction. Remember, numbers are usually written in Arabic, so wearing a watch with Arabic numbers is a very wise idea.
There are also many taxis, but for general fares, it is best to ask the hotel staff or locals to clarify the fare with the driver.
Public Transportation
The major way to navigate Alexandria is using Trams and buses, and they are also the most cost-effective option. The fare cost for an individual is E£0.50. And if you want to travel the Corniche, it is best to use the Ramleh Line. The fares for the bus are between E£0.50 and E£1.50.
Taxi
If you need to get anywhere in central Alexandria quickly, taxis are important, but tourists must be careful when using them. This is because very few taxis in Alexandria use meters. Therefore, mutually agree on a price before you leave. The driver is a popular choice to act as a tour guide for a day (or even for a week), and many residents will be happy to negotiate a price for it. You can expect this privilege to cost you around E£100 in a day.
Car
If what you are looking for is complete freedom to have the opportunity to have a total exploration, it is always advisable to rent a car. Companies such as Budget, Europcar, and Hertz are represented in Alexandria and will cost about E£120 per day. Keep in mind to use your horns always, drive safely, obey traffic lights, and then you will be good to go.
Best time of year to visit Alexandria, Egypt?
Different from most parts of Egypt, Alexandria is a Mediterranean climate featuring hot, humid summers and rainy winters. It's humid all year round, but in summer, it's especially humid during the day, and although the sea breeze can help, the temperature can be very high.
Many Egyptians travel to Alexandria during the summer to escape the heat of Cairo and the surrounding area. During winters, the atmosphere will be cool and rainy.
In terms of climate and number of visitors, the best time to visit Alexandria is in spring (March to early June) and autumn (September-November).
Some Important Attractions in Alexandria
Library of Alexandria
 The Great Ancient Library of Alexandria is considered to be one of the largest and most important ancient world libraries and a crucial place of study. The Great Library was built by the Macedonian general and Pharaoh Ptolemy I Soter I. It is believed that the Great Library contains a huge collection of famous works and was a place studied by most of the famous ancient thinkers in the world.
This library was burned down (either completely or incompletely) during the siege of Julius Caesar's army in 48 BC. There is evidence that it continued to exist and was completely destroyed in an attack by the Roman Emperor Aurelian in 270 AD.
In 2002, the Library of Alexandria was officially commissioned as a library and cultural center to commemorate the initial Library of Alexandria, which was built near the supposed original site. The contemporary disc-shaped library has a spacious and impressive reading room.
The library contains books in three different languages: Arabic, French, and English and features several museums, galleries, and temporary options. Currently, it is one of the most modernized public buildings in Egypt and one of the most expensive. The exterior features Aswan granite with carvings from various human scripts (up to 120).
The library is equipped with air conditioning, so it's a great place to escape a hot summer afternoon. There is a library registration fee (EGP 70 for non-Egyptians) featuring a 30-minute guided tour by library staff.
National Museum of Alexandria
 Alexandria's National Museum offers a complete history of the city. It is chronologically organized into three floors: the basement is dedicated to the time of the pharaohs, the ground floor to the Greco-Roman period with sculptures from the eastern port, and the upper floor to Coptic, Muslim, and modern Alexandria. Exciting finds include a huge mosaic of Medusa's head found while constructing a local cinema and a series of impressive statues found buried under the sea, including the goddess Isis (a basalt statue).
Lighthouse of Alexandria & Citadel of Qaitbay
Alexandria Lighthouse, often called The Pharos or Pharos of Alexandria, was a big lighthouse built between 280 and 247 BC. It was constructed by the Kingdom of Ptolemy and is estimated to be around 140 meters high.
It is built of stone, possibly whitewashed limestone and light are produced by a furnace above to ensure the ship reaches Alexandria harbor safely. It is one of the Seven Wonders of the Ancient World and one of the tallest artificial buildings in the world at the time.
However, Alexandria's great lighthouse cannot be seen today as it was severely damaged by an earthquake, and until 1323 AD, it was abandoned. However, it lasted until around 1480 AD, when the remnants of the tower were used in building the Qaitbay Citadel. The Citadel of Qaitbay is located in the same place as the lighthouse.
Mamluk Sultan al-Ashraf Qaitbay constructed the Qaitbay Citadel in 1480 AD and was one of Egypt's most crucial defensive strongholds along the Mediterranean. As mentioned above, some of the remnants from the ancient lighthouse in Alexandria were used for the construction.
The fortress was later preserved by rulers because of its strategic importance and defense against Ottoman attacks and was heavily damaged by the British in 1882 in the Urabi uprising. After this attack, the fort fell into disrepair until it was converted into a royal palace by King Farouk in 1904.
The Egyptian revolution in 1952 births the decision to renovate it and convert it into a maritime museum. If you want to visit the interior (although there is an entry fee), the rooms in the fort are mostly unoccupied, but on the terrace, you have a beautiful view of the harbor, and in addition, there is a mosque and a small maritime museum for exploration.
From the harbor, there is a spectacular view of the citadel, with the waves crashing against its exteriors. A lot of tourists stroll along the harbor and then eat at one of the seafood restaurants to taste the fresh local fish and admire the view of the harbor.
Pompey's Pillar: Dedicated to the Diocletian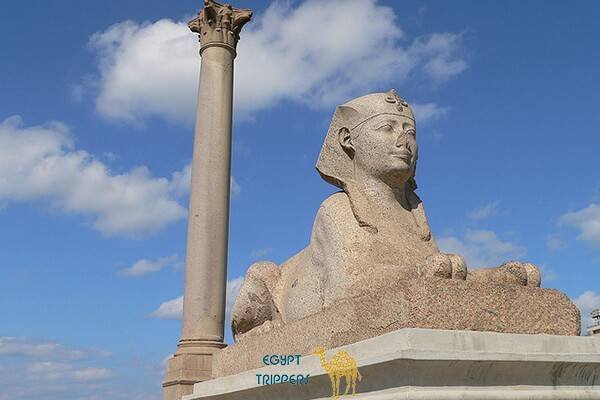 Pompey's pillar has been recorded as one of the biggest monoliths ever built in the Roman Empire age, and the last ancient monument remains in Alexandria. With a height of over 80 feet and weighing hundreds of tons, this magnificent red sandstone column is magnificent. Not so far, there is a wonder about medieval life hidden underground: the Kom el Shoqafa's Catacombs. This ancient tomb is supported by Roman columns and features Egyptian motifs paintings; it is indeed a strange place to wander.
Montaza Palace
 Located in the middle of gardens and overlooking a bright Mediterranean beach, this palace is a location you must never miss. The architecture is a combination of Turkish and Florentine influences and reflects the agglomeration of the ancients Alexandrian culture. Beautiful and filigree, the palace is a small paradise of its own – the royal gardens are open for leisure, and the long open halls built into the building give visitors a breathtaking sea view.
Kom el-Dikka: Fancy Remnants
The Kom el-Dikka is a Roman Amphitheater highlighting the Ancient Archaeological features of Alexandria and only remnants of such kind in Egypt. In the 20th century, the remnant was found under a pile of sand when huge pillars were found nearby. Unfortunately, many of the remnants were collapsed in the 6th century because of a great earthquake; however, it has undergone reconstruction. Amazing mosaics adorn the floor, and a walk through the great ruins will take you some years back to the past.
Greco-Roman Museum
This might not be bigger; however, the Greco-Roman Museum contains artifacts from a significant period in Egyptian history when the ancient civilizations of Greece, Rome, and Egypt came together here, making it an interesting amalgamation of tradition. In this small museum, you will meet many famous figures from world history who lived a significant part of their lives in Alexandria.
Here, there are figurative representations of great people like Alexander the Great, Julius Caesar, Cleopatra, and Marc Antony. You can see the only replica of Pharos lighthouse that existed to mark the harbor of Alexandria – the second of the seven wonders of the ancient Egyptian world. The other is the Giza Pyramids in Cairo. Around The museum is Kom Al-Dikka.
The name means "mound of rubble" in Arabic, but this is one of the few places where archaeologists have discovered part of the ancient city. Current excavations have found a well-preserved Roman amphitheater here, one of few believed to have decorated the ancient city. The site also showcases a Roman bathroom and a Roman villa with intact mosaic decorations.
Where to Stay in Alexandria
Most of the best hotels in Alexandria are located on the Corniche, and there are some pretty special options. Landmarks include Helnan Palestine (350 hectares of land), Four Seasons San Stefano with an integrated spa area, and the elegant Steigenberger Cecil.
Some neighborhoods you can stay in Alexandria
Corniche
Corniche was designed by Italian architect Pietro Avoscani and is a stunning seaside boulevard that leads from the impressive Qaitbay fortress, 10 miles away, to Montaza Palace. In the center of Alexandria, you will find excellent restaurants such as Kadoura or Grand Café, as well as excellent beaches of the city.
Downtown Alexandria
From the Corniche, stroll a little distance inland, and you will reach downtown Alexandria. Full of stores, markets, cinemas, museums, and galleries, this really is the heart of Alexandria for most tourists.
San Stefano
Located in the East of the city center, San Stefano is much more luxurious and is home to some of the most luxurious hotels and malls in the city, such as the San Stefano Plaza. Thanks to its pleasant coastal location and easy access to downtown Alexandria, it is a well-known base for tourists visiting the city, and you'll definitely love it.