Hurghada is a 6-hour drive from Cairo and a 4.5-hour drive from Luxor. It is the largest city on the Red Sea. The Airport in Hurghada streamlines the process of moving to the city from different places in the world, and from Egyptian cities to Hurghada, there are many options available. Some of them include the Egypt Air, Ferry boat between Hurghada and Sharm El Sheik. In addition, different transport companies leave Hurghada to Cairo, Luxor, Marsa Alam, Alexandria, etc., making the city easier to access.
About Hurghada
Hurghada is split into three districts: the El Dahar area is the ancient city of Hurghada, including the old plaza and market of Hurghada, as well as the city's main mosque and cathedral. El Sakala, the second sector, contains several bazaars, cafés, discos, the Hurghada terminal, and the Hurghada port, from which boats sail for Sharm el-Sheikh and Saudi Arabia. The tourist strip in front of the hotel is a newly built area; along the street, there are several markets, cafés, and discus.
In the past 25 years, Hurghada has grown from being a fishing village to a thriving town of approximately 180,000 inhabitants. This amazing growth is entirely a result of tourism, although it is worth considering Hurghada as a low-salt seaside resort: despite having the best coastal marine life to date, its public beaches are far or not attractive. The city itself is perfect: a collection of useful buildings, elegant hotels, beautiful shops, and some wastelands.
If you don't like diving – some coral islands and reefs are just a few hours away by boat, and you can visit many other great places on the boat – or relax on the beach at one of the resorts. Hurghada is very popular among Eastern Europeans, especially Russians, and is visited by hundreds of thousands of people every year; While they have a welcoming custom, cultural differences sometimes create tension with locals.
When is the best time to visit Hurghada?
 With a dry temperate climate all year round, Hurghada is good for year-round vacations. From June to September is generally recommended as the best time to visit, especially if you want to snorkel and dive. In this period, the Red Sea coast has a much colder climate than the inland in Egypt, with average temperatures around 29°C and sea temperatures around 27°C.
If you are going between July and August, it is advisable to book in advance because the resort has many European and American tourists and also Egyptians eager to escape the Cairo heat. In addition, it is important to apply enough sun cream so as not to damage the skin. If you want to avoid the summer heat and book hotels at a cheaper price, winter and early spring are good times to visit Hurghada.
How To Get to Hurghada
 If you are traveling from abroad or through a domestic flight, then touch down at Hurghada International Airport. After landing, you can easily take an official taxi from the airport or call a taxi from outside the arrival hall for a quick pickup. If you have booked a hotel ahead, you can easily get the hotel to send you a car to pick up before you arrive.
However, if you are traveling from Cairo, you have three options: a) by car, b) by bus, or c) by plane. Cairo's driving is now highly convenient compliments of its new Galala Road, which allows you to bypass the winding mountain roads of Ain el Sokhna. You will spend around 4.5 hours from Cairo.
If you take the bus, GoBus operates over 20 buses a day between Cairo and Hurghada. They offer different types of buses depending on the type of ticket you buy.
How to Get Around Hurghada
By microbus
 A group of white minibuses known as microbus serve is available in the area at a fixed rate of LE2. They drive along fixed routes, especially the coastal strip, where there are pickups and drop-offs along the way. Inquire about where you are heading before boarding the bus – if you can get on a bus, the next one will probably come. Larger or smaller regular buses often travel along coastal roads to El Gouna and Safaga.
By taxi
Hurghada's taxi drivers have an incredible talent for spotting tourists from a distance; look at the oncoming car, and it will stop for you to board at a price.
Before you enter any Taxi, make sure the driver speaks English and indicate the desired destination using a map.
Only a few streets have names; therefore, the destination is represented by a nearby location, such as a hotel. Discuss the total price with the driver; the price in the same area should be LE5-10; if you go downtown to the Senzo mall, the price should be LE20. Do not allow the drive to charge you based on the meter, as it is controllable by the driver. After agreeing on a price, enter and alight in front of the hotel.
If you don't want any confrontation with the drivers, make sure you have the right amount of money you originally agreed on, give them the money when you reach your destination, alight, and walk away. If you are paying with a LE5 or LE50 bill, drivers can try to exchange it for a 50 piastre bill and claim the original bill you already paid. Piastra notes cost less than pounds.
You can find drivers initially agreeing to a LE15 fare, and when you reach your destination, he says it is LE50.
Uber and Careem are available in Hurghada. They are cheap and convenient and always save you from negotiating taxi trips.
However, some places in Hurghada are not accessible by Uber. You will notice a message that Uber does not work in this location. Walk some distance ahead, 2-3 blocks or 5 minutes from the building, and you can use Uber again.
ABC Taxi, ABC offers a professional service with pre-defined rates. You can reach them from a local cell phone to make a reservation. The call will disconnect immediately, and you will be called instantly to help save some credit. The details and description of the car are sent via SMS, and the rate is also confirmed via SMS.
Things To Do and Places to visit In Hurghada
Diving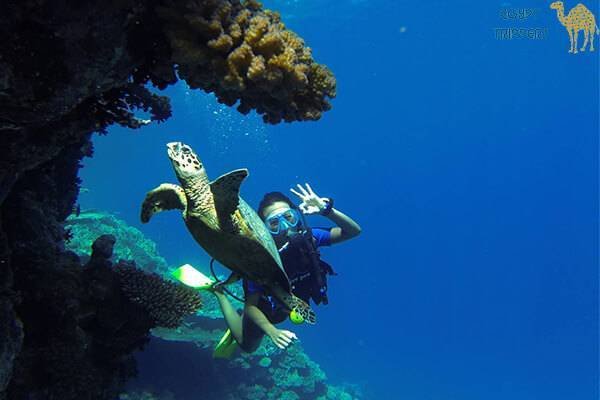 Diving was the main thing that Hurghada popular. The location has more coral islands than coral reefs, including about ten islands in a day trip and more islands that can be visited on the extended liveaboard or dive safaris. In addition, Sharks, giant eels, and rays can be seen in deeper water.
Hurghada receives throngs of tourists every week and has over a thousand cruise ships. To cope with the resulting environmental impact, the Underwater National Parks of the Red Sea and Protected Islands charge all divers an "environmental fee" (€3) every day, and the proceeds will be donated to environmental protection projects.
This is different from the standard price of 3 euros per day for diving in the nearby Giftun Islands and coral reefs and the standard price of €5 per day in places further south (such as Brothers and Zabagard). HEPCA (Hurghada Environmental Protection and Conservation Association; w hepca.com) also solves this problem of environmental impact, and the association tries to foster ecological awareness. Visitors can also contribute by using the diving centers that belong to HEPCA and have a certificate from the Egyptian Association for Underwater Sports.
New Marina: Where the Magic Never Ends
The New Marina in Hurghada, Egypt, is a paradise on earth. Experience the beautiful view of the big ship in the harbor, taste various delicacies at the many available hotels, savor your taste buds, sip your favorite drink at the bar in front, and shop for jewelry and other things you want at the chic malls. You can also practice fun sports such as diving.
Giftun Island: Unwind in Style
Giftun Island is one of those islands you will find in the Red Sea. This extraordinary landmass has warm lagoons, coral reefs, and clean beaches. Take a dip in the calm turquoise waters and see various types of marine life, like dolphins and colorful fish. Enjoy tasty fish, sunbathe, admire the stunning scenery and swim in the stunning environments of the subtropical island.
The Elmina Mosque is an incredibly large and unbelievable monument in Egypt. You can get to know about the interesting Muslim religion, get the opportunity to wear simple Muslim clothing, ask the friendly people around various questions, marvel at the impressive aesthetic of the mosque, and spend time with Allah after learning about Allah's tolerant Sharia. Take some beautiful photos of the grand and elegant dome of the mosque.
El Gouna Beach: Experience Limitless Leisure
Being one of the best places you can visit in Egypt, El Gouna Beach is an oasis of joy for all tastes. You can relax on the warm sand, soak up the refreshing sun and participate in fun activities like kayaking. Enjoy strong winds and fly a kite or swim in open water and play with friendly dolphins. Play golf and hit the bar like a Bartender at night. Here, you can enjoy a cool drink while moving your body to some beautiful mixes.
Boat trips to the islands
There are various types of islands off the coast of Hurghada. Depending on your preferred island, you can go scuba diving and explore or spend your entire day at the beach bar that provides sun loungers and umbrellas.
Hurghada Grand Aquarium: Have some view of some Amazing Creatures
The Hurghada Aquarium opened in January 2015 and contained more than 1,000 animals and hundreds of species. At a price of only $12, you can see interesting creatures like eagle rays and green turtles live. Get close to the fascinating reptiles and colorful crustaceans, engage in refreshing aquarium diving activities, enjoy delicious food in the aquarium's exclusive café and be on the lookout for snakes and other animals in the beautiful mini-zoo.
Water Park & Aquarium
If you are with your family and want something attractive for both children and adults, try one of the water parks in Hurghada. The most known is Makadi Water World. All guests staying at the Jaz Makadi Bay Hotel can enter freely or buy tickets. There are plenty of slides for all ages and restaurants/snack bars offering food and drinks.
Try some traditional local food in El Dahar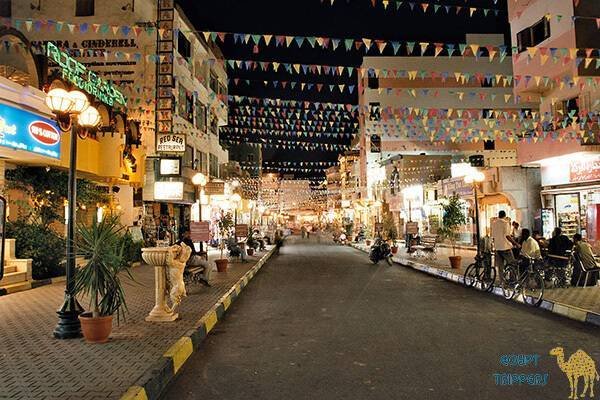 For authentic local cuisine, head to El Dhar, Hurghada's historic center, filled with local restaurants and stalls. Here you have the opportunity to eat different local dishes, including falafel and taouk, most of which come at a cost-effective price. Then visit the Bedouin bar to enjoy a cup of coffee or juice.
Go on a quad bike Desert Safari
Riding a quad bike on the Desert near Hurghada is fun, exciting, and worthwhile. You will go through changing sand dunes before you reach one of the traditional villages in Bedouin. Here you can treat yourself to a nice cup of mint tea, interact with the nomads and find out about their way of life.
Snorkelling
If you do not like diving, you can also get snorkeling opportunities, the equipment of which you can hire from most diving centers for €5-6 per day. The small reefs in front of the Shedwan hotel complex in Ed-Dahar and the village of Jasmine in Hurghada are exposed to visible damage but offer snorkellers a glimpse of the fish and corals on the shore.
A larger percentage of the dive centers around offer snorkelling tours (around 25-40 € per day) and can recommend good places on the Giftun Islands or other places where you can watch dolphins. Prince Safaris, operated by the welcoming Bedouin brothers, can help you arrange snorkelling trips in the Giftun Islands for around €25.
St. Anthony's Monastery
St. Anthony was one of the known among the "Desert Fathers" (a group of Christians monks who inhabited the desert in Eastern Egypt). He was walking around in the desert when he discovered an oasis with trees and was buried in the same spot. Then his monastery was built some years later.
Today St. Anthony's Monastery is the oldest inhabited Christian monastery in the world and is home to paintings dating back to the 7th and 8th centuries, as well as 1,700 ancient documents. It's about a two-hour drive from Hurghada and close to St. Paul's Monastery, which dates back to the 6th century.
Shopping in Hurghada: Best items to Buy
You can buy a lot of souvenirs in the shops scattered around the capital (Sekalla main street). Along the beach area, there are also various bazaars in the old town (El Dahar), which are cheaper than Sigala. A new center is now open. It takes about 10 minutes by taxi from the city's Senzo shopping mall to Airport Road. You can also visit places like the Senzo mall in the direction of the airport road. It has a big Spinneys supermarket and other shops, fast food restaurants, a 5-screen cinema, and a medium-sized children's playground.
While shopping, keep in mind to constantly bargain prices everywhere before making a purchase, except for restaurants and pharmacies. You should get a 75% discount on the price the seller initially charged. This may be different for different products. So don't forget to check the correct prices in some stores. There are fixed-price souvenir shops, mainly in the New Hurghada area, although these prices are higher than if you had haggled in the souk. The famous Cleopatra store in Mamsha and Sheraton Road in Hurghada sells various souvenirs like shirts, wood products, and silver.
For big-name brands and products, check out New Marina and Sheraton Road for Adidas, Timberland, Dockers, and Levi's. Clothes sold at the traditional bazaar are often counterfeit, although the banners feature popular brands.
For perfume stores, you might be buying milligrams worth LE1 at LE25 because all perfumes are oil-based, and it is hard to find an original perfume. Avoid perfume shops dragging you inside; they will often invite you to tea. If they think you are rich, they will treat you to cola, allow you to smell some perfume with a strong smell. It is often advisable you do not accept this offer because once you drink then, you must buy. Anyways you can easily find good and awesome perfume options that you'll find.
Where to Stay in Hurghada
Triton Empire Inn at Hospital & Sayed Korrayem St. It has state-of-the-art rooms, pools, and excellent beach facilities. Dana Beach Resort on the road to Sahl Hasheesh is another standard resort that is famous among visitors.
Popular Neighborhoods in Hurghada
Sahl Hasheesh: located in a beautiful bay with many islands, artificial reefs, good beaches, and many hotels.
Dahar: this is the old downtown and has some interesting markets that offer fish and local products.
Scaffolding district: this is the area in the old port and the hub for clubs, restaurants, and shops.