This article features the top 10 hotels in Sharm El Sheik. The hotels featured in this article are listed in no particular order.
Top 10 Hotels in Sharm El Sheik for 2022
Sharm El Sheik is a sunny beach destination in Egypt that is situated on the Sinai Peninsula. This place has sensational dive sites, all inclusive-family friendly resorts, and luxe chain hotels. Sharm El Sheik, a fishing village that is now a naval port is an enticing destination for holidays.
Popular referred to as the City of Peace, the warm waters, reefs, nightclubs, restaurants, and supper hotels of Sharm El Sheik attract a great number of visitors all year round.
If you are thinking about your next holiday destination in Egypt, then you should think about Sharm El Sheik, the Egyptian capital of holidays. Flanked by the Red Sea, Sharm El Sheik gives you access to some of the world's spectacular reefs.
The best hotels in this resort city are along the seafront. Their location makes it easy to take a trip to the urban areas. Other top facilities are near the Old Market of Sharm El Sheik. The location of these other places allows fun trips to Ras Muhammad National Park.
Also nearby is Naama Bay, the major tourist hub of Sharm El Sheik. Naama Bay is famous for its bazaars, restaurants, and cafes. To give you insights so that you know the place that best suits you, here are the top 10 hotels in Sharm El Sheik.
1- Four Seasons Resort
Overlooking the Red Sea, the Four Seasons Resort is built into a hillside. Easily the most prestigious resort, Four Seasons is among the top hotels in Sharm El Sheik. This property exhibits Moorish architecture. It is just a brief walk from this exclusive enclave down to SOHO Square.
The Four Seasons Resort boasts a private beach and a dramatic house reef. There are 200 rooms separated into clusters in the resort, with each room having its terrace or balcony. The rooms are spread across the resort grounds, providing the relaxation and feel of a village.
Although some find this resort slightly old-fashioned, its guest quarters are elegant and spacious. There are plunge pools in the suites, but a swim-up option is not offered in this resort.
However, there are several other charms in this place that make up for the small drawback. Other activities on offer here include a diving and snorkeling service, a top-notch wellness center, and a kid's club. Guests can ride on the funicular railway linking the hotel to the private coral beach.
There are also several in-house restaurants and an Observatory Lounge that guests can dine and drink cocktails while they watch the sunsets. The Four Seasons Resort is by car 15-minutes away from Sharm El Sheikh Airport, and a 25-minute drive from Naama Bay.
2- Rixos Premium Seagate
The Rixos Premium Seagate is an all-inclusive resort that offers world-class service. This property in Sharm El Sheikh is a luxurious 5-star resort located on the seafront. This resort with its premium ultra-inclusive concept features an aqua park and a private beach.
It offers 11 bars, 9 à-la-carte restaurants, 1 buffet restaurant, and 8 swimming pools which include 1 indoor pool. Free Wi-Fi is also included in the entire property. All the rooms in the hotel feature a terrace or balcony with a garden or a pool view.
There is also in every home a safety box, flat-screen TV, and a minibar which is freely refilled daily. Included in the bathrooms too are a shower, a bath, and slippers. The hotel's restaurants La Churrascaria, Salt, Asian, Lalezar offer guests an authentic Brazilian, Seafood, Far East, and Turkish dining experience.
The other facilities at this property include on-site shops and luggage storage, a nightclub, and a spa. You can also enjoy activities such as beach football, snorkeling, and diving at the hotel.
There is also the Rixos Aquaventue Park which is one of the regions' most comprehensive and diverse water parks. Rixos Premium Seagate is just 9 km away from Sharm El Sheikh International Airport.
3- Sunrise Arabian Beach Resort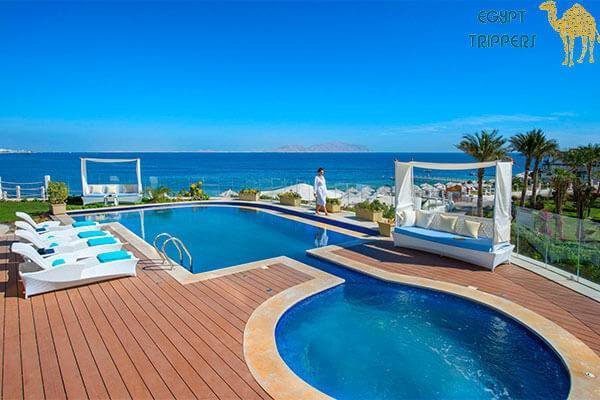 Sunrise Arabian Beach Resort is a six-terraced property located together with its private Sharks Bay, a famous area. Its architecture was inspired by the region's Arabian heritage. Gardens surround the Sunrise Arabian Beach Resort.
The hotel also offers a wide variety of activities. Included in this resort are 6 à-la-carte restaurants and free Wi-Fi available throughout this property. The rooms here are all modern, featuring a private terrace or balcony.
All the elegantly decorated Arabian-styled rooms come with an en-suite bathroom, a flat-screen satellite TV, and air conditioning. This resort offers guests various menus that include an international buffet, French "Côte d'Azur," Italian "La Pergola," Thai "Sabai," and Indian "Masala."
Sunrise Arabian Beach Resort overlooking Tiran Island is 11 km away from Naama Bay. It is 9km away from Sharm El Sheikh International Airport and 8 km away from SOHO Square.
4- Royal Savoy Hotel and Villas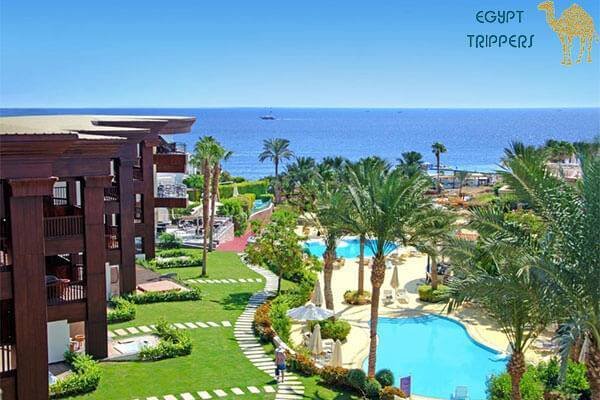 This is another resort that offers guests world-class service. The Royal Savoy Hotel and Villas is in the center of SOHO Square. It features a beach bar, 3 swimming pools, a private beach, and free Wi-Fi is available in all areas, so it deserved to one of the top 10 hotels in Sharm El Sheik.
The luxurious rooms and villas of the Royal Savoy are fitted with plasma satellite TV and air conditioning. The villas come with a garden and a private pool. Each unit of the villa has a patio or balcony overlooking the sea or the landscaped gardens of the hotel.
Furthermore, the spa of Royal Savoy has a sauna and steam room, hot tub, massage room as well a rooftop area fitted with parasols. The treatments in this spa are mainly performed using pure essential oils, natural herbs, and products from Egypt.
There is also the exclusive private lounge of the Royal Savoy Hotel and Vilas offering guests assorted snacks, a continental breakfast, and canapés all through the day. The city center of Sharm El Sheikh is a 10-minute drive away from this place, while the Sharm El Sheikh International Airport is 5 km away.
5- Sultan Gardens Resort
The Sultan Gardens Resort is a 5-star resort featuring a private sandy beach. The beach with overwater decks is on the Sharks Bay. One of its 5 palm-framed freshwater pools is for adults. The pools offer a good view of Tiran Island.
There is also a swim-up bar and an open-air Jacuzzi at the hotel. The 5 restaurants available at this resort offer Cajun cuisine, homemade pasta, and "House of Spice" Indian restaurant, a live cooking show.
Guests can relax on a wooden lounger by the poolside or go to the spa for massage treatment. There are also activities for children that involve having fun on the playground or the waterslide.
Satellite TV channels are available in each room at the Sultan Gardens, with each air-conditioned room offering a brightly colored décor. Sultan Gardens Resort is 6 km away from Sharm El Sheikh International Airport while it is also 6km away from SOHO Square.
6- Aqua Blu
The Aqua Blu is one of the several luxe hotels in Sharm El Sheikh that allows only families and couples. An all-inclusive hotel, Aqua Blu is a part of Aqua Park City. Its promenade with shops and cafes is 450 m long.
It also offers 64 different water slides, 8 swimming pools, and 3 pools for children. There is also access to a private beach and a full-service spa at the hotel. The air-conditioned rooms of Aqua Blu feature balconies with views of the lagoons and the landscaped gardens.
There is also a minibar and satellite TV in each room. Its private bathrooms also have toiletries in them. The buffet-styled Blu Sharm's restaurant serves Asian, Mediterranean, and Italian cuisine. There is also a sports bar where guests can enjoy a drink in the evening.
Guests can also play a game of minigolf or tennis, ride a pedal boat across the lagoon, or go to the well-equipped gym of Aqua Sharm. There is also a shuttle to the Albatros, a private beach on offer. A shuttle to the Sharm El Sheikh International Airport can only be arranged by families and couples.
7- Hotel Novotel Sharm El Sheikh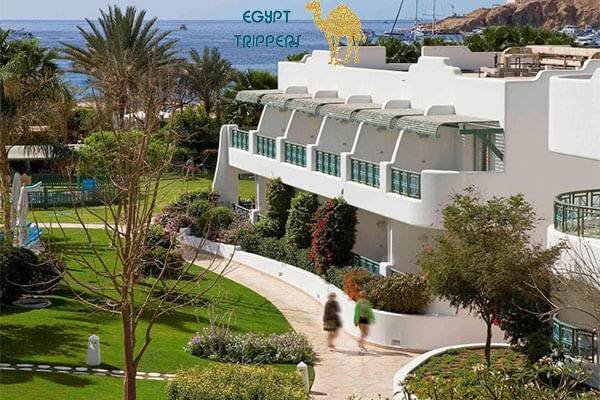 The Hotel Novotel is located within Naama Bay of Sharm El Sheikh. It features 5 swimming pools, a private pool, and air-conditioned rooms equipped with satellite TV. The rooms at Novotel Sharm El Sheikh are elegantly furnished and with tiled floors.
The rooms also feature a minibar, as well as facilities for making coffee and tea. The balconies of some of the rooms here feature panoramic views. The 3 restaurants in the hotel serve various international and regional cuisines.
There is the Bedu Bar for live entertainment and the Al Dente for Italian fare and views of the Red sea. There is also a fitness center where guests can visit. The game room of the hotel has in it table tennis and a playground for children.
The hotel offers free private on-site parking as well as a 24-hour front desk service. The Sharm El Sheikh International Airport is less than 10 km from the hotel
8- Jaz Fanara Resort
The Jaz Fanara Resort is one of the top 10 hotels in Sharm El Sheik, and it is set on the cliff of Ras Om El Sid overlooking the Red Sea. This resort offers a breathtaking view of both the Ras Mohamed National Park and the Red Sea.
The Jaz Fanara is a 4-star hotel with all its rooms equipped with satellite TV and air condition. In addition to the beach bar at Jaz Fanara, there are also outdoor or indoor dining possibilities that guests can choose from at Temple Pool and El Medina Restaurant. These restaurants serve traditional cuisines.
The all-inclusive rates include the house-alcoholic beverages together with dinner, munch, and breakfast. The Jaz Fanara Resort is 22 km away from the Sharm El Sheikh International Airport and 2 km from Sharm City Center.
9- Iberotel Palace
The Iberotel Palace is another hotel in Sharm El Sheikh to experience world-class service. It features rooms with balconies overlooking Sharm El Maya Bay.
In addition to the 2 freshwater outdoor pools, this hotel provides service to a coral beach using a shuttle boat. All the rooms in the Iberotel Palace have a private furnished terrace or balcony with views of the garden, seaside, or the pool. Upon request, accessible rooms and rooms with inter-connecting doors are made available for guests.
The 8 restaurants and bars at the hotel provide night entertainment as well as international cuisines. Among the many services on offer here are the spa, water facilities, and 2 tennis courts.
Its all-inclusive service provides access to the fully-equipped fitness center, private sandy beach, non-alcoholic beverages, and free live music among others. Iberotel Palace is 20 km away from Sharm El Sheikh International Airport and 10 km from Naama Bay.
10- Labranda Tower Bay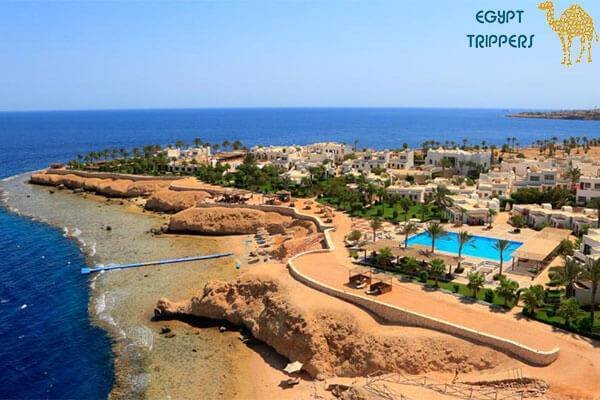 The Labranda Tower Bay is a 4-star hotel that offers panoramic views of both the Sinai Mountains and the turquoise Red Sea. Among the facilities in the hotel are outdoor pools and a 700 m long beach.
The Labranda Tower Bay looks like a traditional Egyptian village because of its architectural style. All the rooms in the hotel feature a fridge, cable TV, and air conditioning. Some of the rooms also have a bathtub and balcony equipped in them.
There are international and traditional Egyptian dishes at the restaurants for guests to enjoy. Every morning, a buffet breakfast is served. The hotel offers the perfect opportunity to go diving and snorkeling at Labranda Tower Bay.
There is also tennis and a spa equipped with a hot tub, massage facilities, and Turkish bath in this hotel. In addition is an equipped playground where children can play. Labranda Tower Bay is just a 15-minute drive to central Sharm El Sheikh and a 10-minute drive from Naama Bay.
To Wrap Up
Sharm El Sheikh boasts vivid reefs and crystal-clear waters. It is the destination to visit when going to the sun-and-sea paradise. On your next visit to this city, consider staying in one of the hotels discussed in this guide. You'll not regret doing so, also you should read the Sharm El Sheikh travel guide article.