Sharm el-Sheikh is a famous tourist city in Egypt, full of wonders of the world. According to history, it once belonged to Israel and was brought back to Egypt in 1979. Although largely uninhabited, Sharm el-Sheikh is of particular importance because of its strategic location, which governs the narrow entrance to the Gulf of Aqaba.
The area started developing as a renowned tourist destination while still under the administration of Israel, and the efforts are being made by Egyptians to retain the site. Presently, the city has become a tourist destination with visitors from different parts of the world, while the unique biodiversity of the marine world continues to attract more visitors to this part of the world and makes it a popular snorkeling destination. Sharm El-Sheikh is located between Cairo (Egypt) and Jerusalem (Israel) and is a host to hidden gems with its beach resorts, abundant underwater habitats, admirable coral reefs, and unique diving sites.
Sharm el-Sheikh is also called the city of peace because many international peace talks took place here. Sharm el-Sheikh is very suitable for leisure holidays or interesting adventures. Sunbathing and swimming on the beach, exploring the old town or visiting famous historical sites in the area.
About 50 years ago, Sharm el-Sheikh was still a Bedouin village with a small population of people. Today it is a famous holiday destination that attracts people of all ages. Irrespective of your age, if you are 8, 18, or 80 years old, there are plenty of good reasons to check out Sharm El Sheikh.
When to Visit Sharm El-Sheikh?
Sharm El Sheikh temperatures can peak 92 degrees Fahrenheit in the hottest months, especially June, July, and August. You can visit the location between April to May and September to October when is the heat is not at its peak and not as crowded as diving sites in Ras Mohammed National Park, Ras Um Sid, and Tiran Island. The best time you can plan to visit the Sharm El Sheikh is during Winter, between November to April. The atmosphere would be warm, sunny, with the temperature not passing 72 degrees Fahrenheit, suitable for outdoor activities such as camel rides and desert walks.
How to Get to Sharm El-Sheikh?
1- By plane
The Airport in this region (Sharm el-Sheikh) is the biggest and the busiest in Sinai and welcomes mass charter tourists every day during the peak winter season. The domestic flights available are operated by Nile Air and EgyptAir.
2- Boat
There is a boat service carrying passengers from Hurghada to Sharm El Sheikh. It is operated by International Fast Ferries and works four times a week. You can expect the cost of the ticket to be around E£250 for one way and E£450 for a return trip.
3- By road
You can access Sharm el-Sheikh through road by driving along the east coast of Eilat, Israeli Nuweiba, and Dahab or on the west coast of Cairo. Buses run daily for the two routes. From Cairo, East Delta buses take about 8 hours (EGP80) and Superjet buses 6 hours. When you board a bus from Cairo, do not lose your bus ticket and passport because you will pass through a series of checkpoints where passengers must present an ID card and a ticket. The drive is always adventurous, with many beautiful sceneries.
Get Around in Sharm El-Sheikh
1- By taxi
In Sharm, most of the taxis you will find are new models; Hyundai or Chevrolet. Don't worry, bother checking their meter; just a few of them are still functional, break easily because of the dust. Always write the driver's identification number. Don't make the mistake of assuming the taxi has a meter. Locals would even tell you they don't have a meter. Ensure you have already arranged a transport or, to save yourself from unnecessary stress, take a limousine in the airport, with a fixed fare in the airport arrival hall.
It is almost impossible to get a taxi at an affordable price at Sharm El Sheikh Airport. They will charge 150-400 LE for distance like Nabq, which is not usually more than 10 minutes. Therefore, ensure you bargain a lower price than the rate advertised for the Limo in the Arrivals Hall. Also, always have Egyptian currency with you to pax taxis and don't pay until you reach your destination to ensure you pay the price you have bargained for.
And let the driver know ahead that you are paying the fare with Egyptian currency. It is advisable you save yourself the headache and stress of bargaining taxi fare and being cheated by booking ahead an airport transfer with one of the many providers online. The price per taxi should be in the range of €10 to 13€. The taxi will drop you off at the old city's entrance.
2- By bus
There are various minibuses (blue and white) that transport residents around the area. Buses are the most cost-effective way of moving around than taxis. However, note it is not legal for them to accept tourists.
3- By minibus
For the sake of price and convenience, it is much more advisable to hire privately operated minibuses.
Where to Eat out in Sharm El-Sheikh
1- Arabesque
This open-air one of the best restaurants in Sharm El-Sheikh, it's offers indoor and outdoor dining services, including the Mediterranean, Moroccan and Lebanese specialties. There are 90 seats in the restaurant and 75 seats for people to seat outside. You can choose Middle Eastern appetizers and fresh seafood. In addition, there is a wood-burning pizza oven.
Websites: (www.fourseasons.com/sharmelsheikh)
2- Starlight Dinner Restaurant
Hilton Sharm El Sheikh Fayrouz Resort. An outdoor meal in the desert with mountains lit by fires and candles. Some of the food available in the Egyptian buffet and mezze. Book at least 24 hours in advance. Ensure you book a minimum of 24 hours ahead.
Website: (www.hilton.com)
3- TAM TAM
If you want to enjoy a night of Na'ama Bay's passeggiata while eating grilled lamb, you may have to visit the roof terrace of this restaurant as Gasttala Ghazala used to be in the middle of the bay. Items on the ground floor include a collection of benches and cushions with elegant undercoats.
Website: (www.ghazala.com)
4- The Souk at the Hyatt
The Hyatt's Souk Juice is like a Moroccan market with Bedouin music, Middle Eastern cuisine, and shops selling local artifacts, fashion, and jewelry. The various foods offered include the spiced falafels in pita bread at Roti Roti (specialized in flatbread wrapped in traditional Middle Eastern aromatic cuisine and with traditional chocolate servings), Wok's noodle, and rice dishes, and various Lebanese and Arabic specialties in Tahina. With the addition of babaganoush, labneh with walnuts, tabouleh, and factoush.
Website: (www.sharm.hyatt.com)
Where to Visit in Sharm El-Sheikh
1- St Catherine's Monastery
The fortress-like St Catherine's Monastery is located nearby Mount Sinai and was built by Emperor Justinian in 527 on the site where Moses discovered the burning of a bush. Its high walls harmoniously combine libraries, kitchens, and rooms, as well as an exquisite church with golden lamps, ancient icons, and the smell of incense. In the gardens, there is a crypt containing the bones of all the monks who once inhabited the place.
It's mostly visited on a day trip by tourists, and this is the only opportunity for most visitors to experience the surprising ruggedness of the Sinai Peninsula, where only a bizarre oasis of date palms breaks through the endless shades of pink and brown of the rugged mountains. You might give up on the idea of ​​walking to the top of Mount Sinai, but the old building at your foot must be only a few hours' drive from the hotel's swimming pool.
2- The Coloured Canyon
There is a scene about 80 miles northeast of the monastery that would not be out of place in an Indiana Jones movie. The Coloured Canyon is a geographical site you can find everywhere. Canyon, which was dug through layers of sandstone and limestone by water over the past 1.5 million years, and a Bedouin discovered it while searching for his lost daughter. The canyon has a breathtaking view, especially at the narrowest part, where the rock walls at the peak feature different colors like gold, rosy pink coupled with burgundy, green, and yellow less than a meter away.
3- Ras Mohammed National Park: Feast Your Eyes
This beautiful national park is located at the top of the Sinai Peninsula. It is the finest park in Egypt and is recognized globally as one of the best locations to dive. The Red Sea and Gulf of Suez contain many coral reefs coupled with various species creating a kaleidoscope of colors. The most famous are the Yolanda and Shark Reefs, and away from the Shore, you might even have the chance to see some dolphins playing in the water. However, offshore, the park is suitable for swimming and picnicking.
4- Naama Bay: Beach Town Galore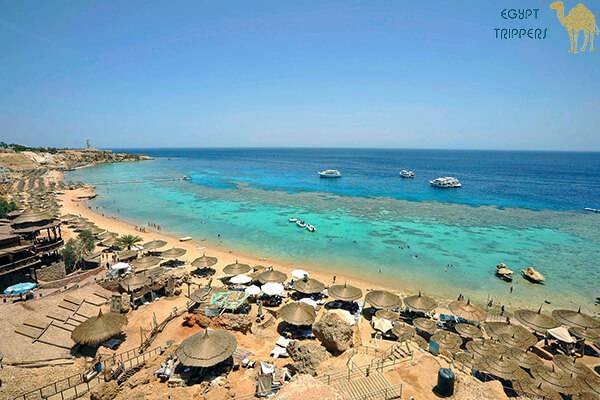 Tourism in this location revolves around Naama Bay; it features an attractive beach that's suitable as a recreation zone. On land, the resorts around offer comforts such as beach chairs and umbrellas, so you can find a lot of visitors throughout the day enjoying the sun. And on the sea, you will see different boats coming and going; it's indeed a sight to behold. You can also join these streams of boats its available for rent. There are many ways to enjoy this Bay; you get to choose the one you love.
5- Tiran Island: The Ultimate Day Trip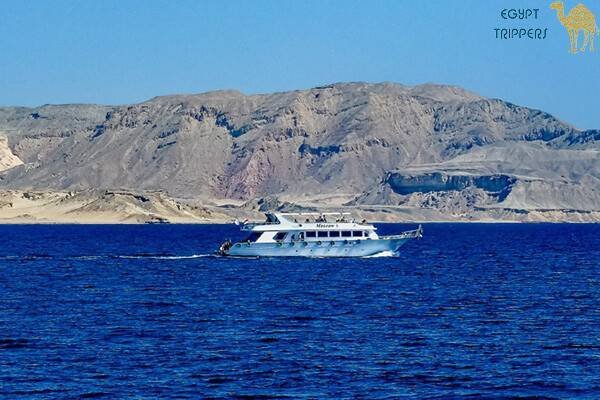 This island is located on the Strait of Tiran, where the Red Sea forms the Gulf of Aqaba. Take a cruise through these sea crossings to get to this wonderland – a perfect location for scuba diving. The boat trip without other things is worth the experience, but when you get there, you will find clean beaches and crystal-clear waters. Another world full of exotic creatures is waiting for you below the surface. Jackson Reef is a dynamic, well-preserved ecosystem that hosts inhabitants like mantle rays and barracuda!
6- Sharm Old Market: Souvenir Time!
For a truly local experience, take a break from the resorts and beaches and visit this Old Market in southern Sharm El-Sheikh. An outdoor mall, line of shops rows along the streets. Footwear, crafts, art, jewelry – everything you can find here. Window shopping and negotiating the purchase of display items is a lot of fun. Either way, a trip around this market is inadvertent.
Best Things to do in Sharm El-Sheikh
1- Diving
Diving is an activity that tourists don't miss in Sharm el-Sheikh. As you dive into the warm waters of the Red Sea and leave the desert far, the next world, you will enter beams with color and life. Tiran and Ras Mohammed reefs are known as the two best diving spots globally. A two-hour boat ride from Sharm takes you there. Ras Mohammed is in the southern peak of the Sinai Peninsula. There, the Gulf of Aqaba's current meets the Gulf of Suez's. Because plankton increases in the water, the number of fish is incredible, you will find barracudas, sharks, and moray eels there daily.
2- Quad bikes
There are different operators for Quad bikes; however, they use the same route, distance, and sequence of stops. While driving, you will also meet different groups on the same route as yours. Along the route, you will find routes that are shaky, very much similar to a washboard.
It is recommended you wear a long-sleeved shirt, shoes instead of sandals. Ensure your safety helmet is on, and also your travel insurance must cover what you are doing. You are riding in a desert area, so do not be disappointed when your wear and skin are covered with dust. Being a non-professional rider, you should be satisfied with 2 hours of riding and anticipate many stops while riding. It is recommended you start riding in the evening (16:00 or later) and ride back after sunset to avoid riding when the air is hot.
3- Parasailing
You will find this very exciting and interesting. However, it can be expensive within a short time. In less than 5 minutes, you might be charged 260 pounds for two persons and 220 pounds for a single person.
4- Camel trekking
This is best done in the Sinai desert with the locals (Sinai's) on their camels. After enjoying the mid-day camel trek, you can end the night by enjoying the view of the desert stars after enjoying a homemade meal from the locals.
5- Sightseeing
As a tourist, it is advisable that you visit the desert for some sightseeing. There are different trips available to red rock mountains and barren deserts. Destinations such as Mount Sinai and Saint Catherine Monastery are also notable and famous places to visit (only a three-hour drive). Most of the visitors either climb the mountain by camel or on foot. Irrespective of how you climb, visiting this location is worth every hour you spend there.
6- Shopping
One of the things you will find tourists visiting is the stand displaying different Bedouin handicrafts. The main thing tourist shop is jewelry (gold and silver) and semi-precious stones gotten from the Old Market or Na'ama Bay. Other popular things you can shop for include Spices, glass perfume bottles, slippers, Bedouin embroidery, leather bags, and Turkish Delight. You can also opt-in for Egyptian bed linen and towels.
7- Restaurants
There are lots of Seafood around, and also different Arabian food and some western cuisine. Many of the hotels have grills where you can enjoy some fish and an indoor restaurant with air condition where you can eat various food.
Where to Stay in Sharm El-Sheikh
There are many cost-effective and budget hotels in Sharm El Sheik suitable for family vacations or group trips. Some of them include Hotel Novotel Sharm El Sheikh, Iberotel Palace, and the Kahramana Hotel. If you want something with a bit of luxury, then you can use places like the Four Seasons Resort Sharm El Sheikh, the Stella Di Mare Beach Hotel & Spa, or the Sharm Grand Plaza Resort.
Popular Neighborhoods in Sharm El-Sheikh
1- Sharm El Maya
Also called the Old Town, Sharm El Maya is the downtown area, and it is a location where places like the port, the marina, and the Old Market can be found. You can also get souvenirs and snorkeling equipment here.
2- Na'ama Bay
Na'ama Bay is one of the most attractive tourist hubs in the city, only three miles away, coming from Sharm El Maya to the coast. It is known to have notable hotels and the best restaurants, venues, and nightlife.
3- Shark's Bay
Shark's Bay is a neighborhood 4.9 miles from Na'ama Bay north and is reputable for hosting various resort hotels, and the attractive beach offers beautiful scenes of Tiran Island. Ultimately, this is going to be one of the best places in Egypt you'll fall in love with, you can check also Sharm El Sheikh Tours.